Our next reading is only two weeks away and we are so delighted by our lineup–they are a stunning group of writers and artists.  Join us downstairs at Silvana on Tuesday, November 18th at 7pm for Cameron Fraser, Asali Solomon, Marguerite Van Cook + James Romberger, and FPP co-founder Wendy S. Walters. Special DJ sets by Lady DM.  Silvana is located at 300 W. 116th St. near Frederick Douglass Blvd, across from Harlem Tavern, steps from the B/C at 116th. Admission is free.
More about our participants: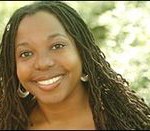 Asali Solomon was born and raised in West Philadelphia. Her first book, a collection of stories entitled Get Down, is set mostly in Philadelphia. Solomon's work has been featured in Vibe, Essence, and the anthology Naked: Black Women Bare All About Their Skin, Hair, Lips and Other Parts. She has a PhD in English from the University of California, Berkeley and an MFA form the Iowa's Writer Workshop in fiction. She is a Visiting Assistant Professor of English at Trinity College in Hartford, CT, and is on the short list for this year's Hurston/Wright Literary Award for best new fiction. The Hurston/Wright Legacy Award 2007 nominees include Asali Solomon for her collection of short stories, Get Down published by Farrar, Straus, and Giroux in 2006.  She also was named one of the National Book foundation's '5 Under 35 in 2007.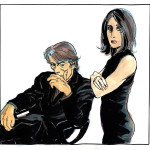 Marguerite Van Cook came to New York with her punk band The Innocents, after touring the UK with The Clash. She stayed and opened the seminal installation gallery Ground Zero with her partner James Romberger. Her own works as an artist and filmmaker have placed her in many museum collections, including the Museum of Modern Art and the Schwartz Art Collection at Harvard. Her other credits include poet (she was awarded the Van Rensselear Prize while at Columbia) and actor. Her current generational graphic memoir The Late Child and Other Animals with James Romberger (Fantagraphics) has been translated and published in France under the title L'Enfant inattendue. Her color work on the graphic memoir 7 Miles a Second, a collaborative project with James Romberger and the late David Wojnarowicz garnered her a nomination for an Eisner Award 2014 for Best Painter/Multimedia Artist. In 2006, Van Cook became the creative and managing director of the Howl! Arts Festival, which led in 2009 to the establishment of Howl HELP, a free emergency health & care service for downtown artists. She holds an M.A. in Modern European Studies from Columbia University and is currently completing a Ph.D in French at The Graduate Center CUNY. Website: http://margueritevancook.com/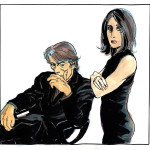 James Romberger's fine art pastel drawings are in many private and public collections, including the Metropolitan Museum of Art. Romberger's ecological comic Post York was published in 2012 by Uncivilized Books; it includes a flexi-disc by his son Crosby and it was nominated for an 2013 Eisner Award for Best Single Issue. Romberger collaborated with Marguerite Van Cook and the late writer, artist and AIDS activist David Wojnarowicz on the critically acclaimed graphic novel 7 Miles A Second, which was first published in 1996 by DC/Vertigo and then released in a revised, expanded edition in February 2013 by Fantagraphics Books. Romberger interviews authors for Publisher's Weekly and he writes critically for The Comics Journal and the pop culture site Hooded Utilitarian. Website:  http://jamesromberger.com/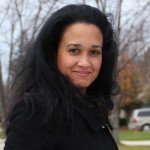 Wendy S. Walters is the author of a forthcoming book of essays, Multiply/Divide (Sarabande, 2015) and two books of poemsTroy, Michigan (Futurepoem, 2014) and Longer I Wait, More You Love Me (2009).  Walters was a 2011 New York Foundation for the Arts Fellow in Poetry, and her work has appeared in The Iowa Review, Bookforum, FENCE, Harper's Magazine, and elsewhere.  She has won a Ford Foundation Fellowship, a research fellowship from the Smithsonian Institution, a scholarship from Bread Loaf, and multiple fellowships from The MacDowell Colony and Yaddo.  She is a Contributing Editor at The Iowa Review and Associate Professor of creative writing and literature at the Eugene Lang College of The New School University in the city of New York.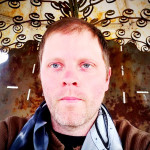 Cameron Fraser hails from Chesapeake Virginia. He studied sculpture at the Art Center College of Design in Pasadena and is currently a MFA candidate at Columbia University in the Sound Arts program. For years, he lived in Los Angeles working as a musician, sound designer and recording engineer. His focus is on making work that lives at the intersection of acoustic ecology, sound design and new music and he is interested in soundscapes as narrative spaces. Cameron left his heart in San Francisco, with his girlfriend and two cats. CameronFraser.bandcamp.com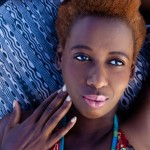 With roots stemming from the legendary musical island of Jamaica in the Caribbean, Mackenzie Largie a.k.a. Lady DM describes herself as a 'musical expat', an apt description for her fearless take on crossing genres of dance-able music.  Lady DM's story begins in 1995, in NYC as a host on FIT's radio station, by day; and avid regular at parties like Theo Parrish's SugarBabies by night. Two years later, she begins her ascent of the city's DJ circuit proper, a regular at venues like the Limelight, Orchard Bar, and The Cooler. While based in Europe from 99'-10', Lady DM regularly hosted radio shows in Zurich, and Berlin, while jetting around entertaining crowds at legendary parties like Amsterdam's Mazzo Club, Zurich's Lethargy festival, Milan's Cox 18, Munich's Muffathalle, and Berlin's WMF. In Berlin, Lady DM also curated events, with Berlin's then up-and-coming artists, including Peaches, Dixon, Jamie Lidell, & Gonzales.  She now calls NYC home.