FPP spoke via email with Dr. Terry Blackhawk, who besides being an acclaimed poet is the founding director of Detroit's InsideOut Literary Arts Project.  We spoke of birds, early influences, rejecting and embracing the "we", and more. Read Dr. Blackhawk's interview then plan to hear her read on Tuesday, May 9th with Alexander Chee, Sonya Chung, and Deborah Emin.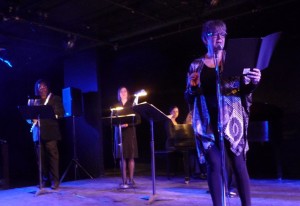 You are the author of four full-length poetry collections and three chapbooks. Would you tell us about your latest chapbook The Whisk and Whir of Wings (The Ridgeway Press)?
This book came together rather quickly, in response to an invitation from my friend Scott Boberg to give a birding-themed reading at the Toledo Museum of Art during their biennial Festival of Birding. Scott is Manager of Programs at the museum. Birding is a big deal in northwestern Ohio, and the annual spring migration draws thousands of visitors to the marshes around Toledo and the Lake Erie shore, so every other May TMA features a 'bird artist' to engage this audience. They featured Fred Tomaselli in 2016. Birds have often launched me into poetry, so I gathered bird poems from my four full-length collections, to have something ready for the reading and thought – well, what a nice chapbook these would make. I worked with Ian Tadashi Moore to design the book. M.L. Liebler brought it out with Ridgeway Press, and I was

overjoyed when Karen Klein let me use her fabulous print "Yellow Woods" (which is collected in the Detroit Institute of Arts) for the cover. I enjoyed pulling the poems together and finding how they range, within the birding theme, from meditative to humorous, erotic to political, free verse to form. Birding has long been one of the ways I lose myself in nature and refresh my spirit. Travel as a birder as well as my volunteer work banding birds or pitching in on the annual Christmas bird count found their way into a lot of poems, so it was nice to remember and collect those adventures and see how they connect.
Would you share your earliest memory of poetry – and how you began creating poetry yourself?
I was fortunate to grow up in a literate family, with many books and a father, a professor, who shared poetry with me. I "wrote some verses" (his words) when I was a little girl, and recall him sharing his enthusiasms with me. e.e. cummings' "[Buffalo Bill's]" and Frost's "The Runaway" are vivid memories. A high school creative writing teacher who, for the times (1962) was pretty iconoclastic and challenging, made a lasting impression, and I was his editor for Manuscript, our school's first literary magazine. I wrote some during my years as an English major at Antioch College, including a senior thesis heavily influenced by Gertrude Stein, but after college I put aside writing or thoughts of writing. Poetry didn't find me again until I was teaching high school in Detroit, in a kind of sudden "muse attack" – a watershed life moment in the late 1980s that led me to seek out poetry for myself as well as my students.
As a reading series, we are curious about the first person plural voice, and what the collective means for our work and for our lives. Do you find notions of "we" influence – or infiltrate – your writing? 
I'm not sure that I think of myself in terms of a 'we'. Pronouns are so critical, for example, to poems and I often tell my students to pay attention to the pronouns and their relationships when reading or writing a poem. I have not tried (yet) to write in the first person plural voice. It may be an aspect of white privilege not to need or see the collective as an alternative or as a source of one's identity. There's an atavistic quality to the "we" of Amurricanness that I resist, of course. I have never played on a team, for better or worse, and have in many ways been an outsider throughout my life, but as the political situation under Trump degenerates by the hour, I think we need a united voice of shared humanity more than ever. It occurs to me that the great African American poets, even when working in an individual, lyric mode, bring an awareness of a shared identity and, with that, a sense of belonging. Think of Lucille Clifton's "jasper, texas" or Robert Hayden's "The Whipping". Our beloved Detroit Poet Laureate Naomi Long Madgett's "City Nights" ends with these lovely first person plural lines:  But the front porch is cool and quiet./ The neighbors are dark and warm./The grandchildren are upstairs dreaming/and we are grateful for their presence. Her sense of family in this poem spills out into the community and neighborhood with a calm and a depth of connectedness that blows me away every time.
When you think of "community" what comes to mind?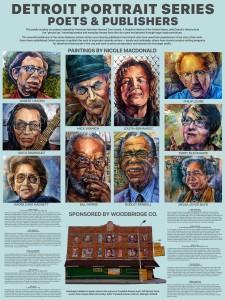 I think of the Detroit cultural community, of which I am happy to be a part. So many poets and writers are writing and growing and sharing their work in Detroit. We benefit from a rich overlap and synergy among writers, musicians, artists of all kinds, and the major cultural institutions have grassroots connections that make the city feel very much like home. I'm fortunate, too, to be a Kresge Arts in Detroit fellow, and to have gotten to know so many fabulous creative people through the gatherings and trainings that the Kresge team has curated for almost ten years. In addition to the monetary award, the fellowship creates community and brings people together in ways that have enriched our lives as individuals and have added immeasurably to life in the city. Dozens of galleries, bookstores, art studios, outdoor spaces, museums, and festivals provide venues and I like to think that a map of the connections among all of these people and places would be eye-dazzling and universal – something rendered along the lines of Australian Aboriginal art. I'm especially honored to be featured, as part of this community, on Trumbull Ave as part of artist Nicole Macdonald's "Detroit Portraits" project — for her "Poets and Publishers" installation along with fellow Kresge fellow Lolita Hernandez and Kresge Eminent Artists Naomi Long Madgett and Bill Harris, who was on the founding board of InsideOut.
You built a visionary literary arts nonprofit in Detroit, bringing poets and writers into local public schools. Could you tell us about the legacy of InsideOut – in Detroit and in the world?
This question brings me back to the matter of pronouns! Looking back on my years as leader of InsideOut–an organization that required a sense of common purpose and often felt very much like family–I realize that we functioned at our best when we were all pulling together (definitely as a "we") and that my best memories come from those times. I retired from iO in 2015, after twenty years as its founding director, and am pleased to say that 'my baby' is even stronger than ever.  Just this week we hosted our sixth or seventh annual high school writers' conference, which brought 150 high school students from across Detroit together for adult-style workshops and a luncheon with Pulitzer Prize winner and Detroit native Tyehimba Jess as guest speaker.  We have served over 60,000 young people over the years (conservatively estimated I am sure) and have thrived despite working in one of the most beleaguered urban school districts in the country. We have an amazingly stable and dedicated staff, team of writers, and a board who keep iO afloat – all of whom take great joy in the work. IO writers in public school classrooms from grades 2-12 inspire – and then help to publish — thousands of Detroit youth every year. Every spring iO publishes a literary anthology for each school we serve, over 400 separate, beautiful titles so far. This beauty energizes! Our mission – to encourage youth to "think broadly, create bravely, and share their voices with the wider world"  — informs iO's in-school work as well as Citywide Poets, one of iO's signature projects, which is a literary community for young people who address the issues of their city and their lives through poetry and performances.
The scope of ALL of iO is too wide for this interview, but I am happy to refer you to the iO website and Facebook page, as well as my last Detroit Huffington Post blog before my retirement. I was fortunate to be invited to blog for the Detroit HuffPo in late 2011, and my columns give insights into the way the work intersects with arts in the city and with students' lives. InsideOut and Detroit itself, as this blog points out, are "Curiously Strong." I like to think our legacy is the self-confidence of youth who learn that their voices matter, that their lives matter, and that they have important things to contribute to the world.