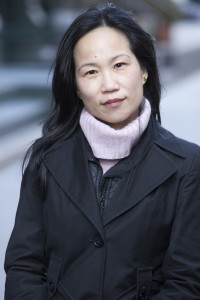 Sonya Chung is a writer and teacher living in Harlem. FPP caught up with her to discuss her relationship to Harlem, her favorite spots in our neighborhood, and where and why she writes. We also talked about the "we" POV as "a fundamental world view in Korean culture." Catch Sonya Chung alongside Terry Blackhawk, Alexander Chee, and Deborah Emin this Tuesday, May 9th, 7pm, at Shrine World Music Venue (at 2271 Adam Clayton Powell (7th Ave) between 133rd and 134th in Harlem).
You live in Harlem and teach in upstate New York. Where do you do most of your creative writing?
West Harlem / Morningside Heights is home—the first and only place I've ever felt truly at home. Like most New Yorkers, I think of my neighborhood as a micro-neighborhood that is essentially a 5-block radius; and I live at the cross-section of multiple neighborhoods, cultures, histories, racial groups, institutions, and social classes, which is exactly the sort of place where I always feel most comfortable and myself.  I watch the neighborhood change, for better and for worse, daily; and I also witness the diverse groups and forces colliding and converging in endlessly interesting ways.  All this to say that I get most of my real writing work done here, at my desk, which is in the kitchen of a small (studio) apartment I share with my partner and two doglets (here you can see a video of them, because you all need to watch this when you are feeling low or stressed and need a burst of endorphins).  

When I get itchy or need to breathe new air or my partner (who also works at home) needs to make a long work phone call, I walk—five blocks this way, 10 or 20 blocks that way—and I can be in a completely different world.  Just yesterday I found a café run by a Venezuelan opera singer in lower Washington Heights, and I got good work done there.  Sometimes I go to Joe Coffee at Columbia.  I have to mention that I often get good work done at Silvana (while enjoying the best uptown falafel hands-down), which I know is connected to Shrine, where FPP is hosted.
What are some of your favorite spots in Harlem?
Oh, so many.  I just mentioned Silvana.  Kuro Kuma on Tiemann Place is the best coffee in the city—and I'm a big coffee person—so please everyone go there and keep them in business forever.  Maison Harlem is our go-to for happy hour and special occasions.  The church ladies outside the Baptist Church on 125th and St. Nich sell homemade coconut cake slices that will change your life (and probably save your soul).  The best vegetable and fruit vendor (he's from Bangladesh) is at the corner of St. Nich and 124th, and the Korean fish market on St. Nich/125 not only has good fish & chips but is one of the most interesting places, sociologically speaking, in the neighborhood. In Morningside Park we love the handball courts, where we smash tennis balls against the wall, racquetball-style, to de-stress. On long walks I love to stroll around City College and St. Nicholas Park, and up to the Trinity Church /Church of the Intercession Cemetery, which is amazing; and just a few blocks beyond that is Sister's Uptown Bookstore, which has been there 17 years, and everyone should know about it.
What does the "we" point of view mean to you, and how does it enter your work?
I've never written in first person plural, strictly speaking; but I think about narrative POV constantly.  I am not exaggerating when I say I think it is the most important decision a writer makes when writing fiction (when teaching, it is always the first topic I introduce to students, via James Wood's How Fiction Works).  There is not only the question of "which POV?"—first person (singular or plural), second person, third person (omniscient or limited)—but also narrative distance, reliability, consistency and/or shifts.  When settling on a narrative POV(s), you are essentially determining the work's "aboutness."  If you are writing from the "we" POV, or, say, the second person, this is especially evident. Or if your narrator is unreliable, this is not simply a "formal" decision but rather a driving force of content/meaning as well.  Finding the right POV for your fiction is often, necessarily, a trial-and-error process; it happens simultaneously as your story and characters find their own aboutness. Form and content shape each other.
The "we" POV is in fact a fundamental world view in Korean culture: in the Korean language, it is a grammatical rule that one must say "our" house, "our" mother/father/grandmother, etc., "our" church; there are other words for which this is the case (money?  I'm not sure, but that would make sense), but these are the ones that come to mind.  The communal-vs-individual tension is always, always pressing for me—in life and in art.  If there is a way in which I feel my soul-level Westernness, it is in this tension—my natural (while at the same time conflicted) leaning toward individual liberty/identity over communal obligation/conformity.  The characters in both my novels struggle with all this as well.  They are shaped by and beholden to their family cultures, while at the same time deeply, conspicuously at odds with them.  The I/We tension is endlessly difficult and interesting.  I seem to have thus far coped by writing ensemble casts. I have yet to be able to write a novel featuring a sole protagonist.  The novel I'm working on now does feature a single protagonist, and I am writing her in first person; and frankly I'm having a heck of a time with it!
At a recent reading Teju Cole, another New York-based writer, said he started writing because it was "a way to be intense about my life." Is writing for you a way to be intense about your life, or is it a way to escape from your life, or something else? In sum, why do you write?
Writing is definitely a way to be intense about my life.  All throughout my adolescence I was told that I was "too serious," and finally when I found my vocation as a writer, I was allowed to immerse in that seriousness. In life we live on the surfaces and interact via simplifications, and that can be enjoyable and entertaining and nourishing in various ways; but in books we plunge deep into complexity and the real.  Life has always felt unsatisfyingly fragmented to me; in novels we aim for something like wholeness.  If I didn't have writing, I think I might have (more) serious mental health issues, because the gap between the call of reality and how we live day-to-day would trouble me a lot.  In that sense I suppose writing is both intensity and escape.
***