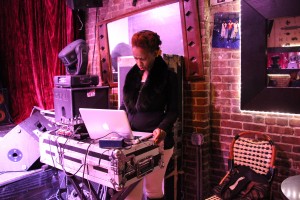 Monday night was a rumble, a barn burner, a hot time in the still-cold city!  We had the best time at the last FPP reading of the season, in the company of Jericho Brown, eteam, Khadijah Queen, Rachel Sherman, and DJ Lady DM.
We were spellbound as Jericho Brown incanted poems about brutality and intimacy– between a boy and his father, between a mother and father, and between lovers.  He channeled Janis Joplin, writing of her throaty, desperate need, and then broadened to poems about the "we" of Harlem and of casual sex ads.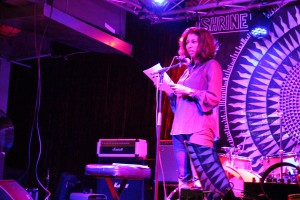 He sang it all, and we felt like we'd been to church (in a good way).
Multi-media artists eteam read from from their current project, "OS Grabeland." For the project, they bought an allotment garden in former East Germany on ebay and became "landlords" to the farmers who use the garden.  They then recorded their tenants' stories about the history of the land, but also declared the garden a cruise ship and took them on a virtual trip to American aboard it.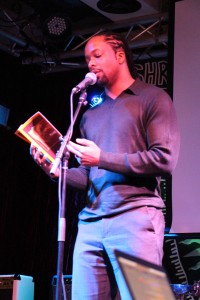 We got to hear the magical and disconcerting collision of the imagined and the real while photographs and video played in the background.
Next Khadijah Queen served up her singular and savvy wit, starting with a letter, "Dear Fear," she'd written as part of the monumental Ann Hamilton show ("the event of a thread") at the Armory earlier this year.  The letter portrayed a touching ambivalence in her relationship to fear– fear, in part, makes us, but it outlives its usefulness.  She read from her sharp and lightning quick poetry collections, Conduit and Black Peculiar, and closed with an excerpt from a hilarious "play" featuring biting social commentary disguised as dialogue between objects.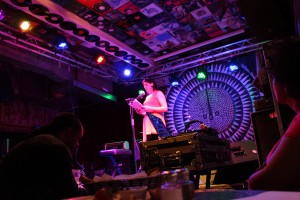 Rachel Sherman closed out the night with a story written expressly for the First Person Plural reading! In the brilliantly structured story, an unnamed group of employees ("we") are charged with creating a coherent family movie from years of a wealthy business man's home videos. The more they watch, the more concerned they grow for his wife, who despite, or perhaps because of, their four children, seems to be wasting away. The story was haunting and Rachel's vision painfully acute.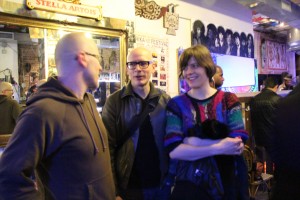 Thanks again to our readers, to our bursting to the seams audience, and to DJ Lady DM who brought the live vibe!