FPP spoke with poet and writer Randall Horton about giving shape to the unseen, the intersections between poetry and prose, and the exhausting digging and wallowing required by writing a memoir. Randall reads with us at the FPP season finale on March 9 at Silvana in Harlem.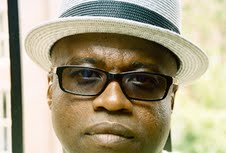 Your poetry seems quite public, that is, interested in the social realm, in the institutions that rise up in and around communities.  You zero in on the exchanges among people and systems that we might observe, rather than focusing largely on interiority.  Can you tell us about your approach to writing about real or invented characters?
I think you are correct in terms of looking at the structures within society, and how these structures dictate human exchange. When looking at characters, I'm trying to figure out what society is doing to them. I think society invents characters. I love to look at that process.
Since I've been writing creative nonfiction a lot lately, I've been looking at the vulnerability of characters, what true conceptions simmer below the surface. I'm trying to get to the unseen.
Do you tend to begin a piece of writing with the sound/feel of a snippet of language or with a concrete image/observation/memory that demands more attention?  How did a piece on which you're currently working begin?
I love observation, then zeroing in on the target. I'm working on these pieces that often start on the subway train: Tenements seep through the train's synthetic glass pane. 125th street the sign reads in block lettering. america appears over the leaf breastplate of a man in solid blue dress. Uniformity along the isles, everybody facing north as if something unknown awaits. Amazing grace the homeless man in the corner with his hand cupped for change belts, how sweet the sound no one hears, only the drone. And so the exploration begins…
You're well known as a poet, but you're now writing a memoir.  How did you know that what you were writing had to come out in prose form, rather than as another book of poetry?
Well, given the expansive nature of the narrative, I understood only so much could be explored through poetry. However, I would like to think the poetry now intersects with the prose in a way that wasn't possible when I first started thinking about writing a memoir. I think I'm better for trying to ground myself in language. I think poetry helped me understand the possibilities of language, and if we have to call it prose, then so be it. I'm just saying, these days I'm having a difficult time trying to label where I'm at in terms of writing. Perhaps one could call it the intersection between the creative imagination and social inquiry.
Then too, when I began to think about memoir, I wanted to do something different. I wanted to have a conversation, make it more than about me. The project, Letters to Lxxxx is a memoir written in epistle form between a Latina woman incarcerated and myself. Lxxxx and myself share a connection as we met while I was pursuing my PhD in Creative Writing after serving a five-year prison sentence, and she was pursuing her undergraduate degree in English after having served three years. Five years later Lxxxx found herself incarcerated through no fault of her own, and, as she now deals with the criminal justice system, it is our letters that begin a conversation about my past, her past, as we both seek to heal from past mistakes.
I send Lxxxx parts of a memoir in progress to give her more insight about my life before and during prison, and she in turn responds with correlations from her own life through her letters. The memoir is a series of calibrated flashbacks showing how my life transitioned from a naive college student at a Historically Black College/University (HBCU) to a person who smuggled drugs from the island of Eleuthera in the Bahamas to the Unites States.
The flashbacks also address bouts with homeless and living on the street, so there is balance to show the consequences of one's actions. There are also 7 short etudes, which are short lyrical compositions through language that pay close attention to literary devices such as imagery, metaphor, consonance/assonance, giving the reader insight on critical and creative inquiry that I engage in as I work out issues of race, skin color and class division.
I don't think I could have gotten all this done in a poetry book. However, I would like to think there is poetry throughout this project.
What are the respective challenges for you of poetry and memoir?
In poetry, the challenge is to always be on the look out for everything others don't see, and more specifically, the others. Of course, language is always the challenge, which is why I love poetry. I'm always thinking, analyzing, looking for a challenge, and poetry gives me that. But poetry is a difficult lover, and there within lies the challenge.
Memoir is about (re) memory, about reliving events, deconstructing those events, finding epiphanies, if possible, all while staying true to the narrative(s). I found memoir to be intense in that you have to go back to those spaces that perhaps you tried to bury long ago. It's the digging that drains you, and when you are through digging, you have to wallow in it it, before you let it go. It's the "it" that kills you. But then you have to edit, and so you relive it, again, and again. That's the beauty of memoir.
It's not surprising, given that your poems tend to notice what has neglected, that you're also an editor at Willow Books (an imprint of Aquarius Press), the mission of which "is to develop, publish and promote writers typically underrepresented in the literary field."  As an editor, how do you know with certainty that the manuscript you hold in your hands will be the press's next volume of poetry?
Well, now days I know because we have judges who are picking the winners, but we trust the judges we choose. Early on, it was a combination of things: the manuscript, the poet, their work, etc.
Remember, as a new press, we had to convince some of our more established writes that we would take care of their work. So, as much as the manuscript had to be good, it was a two way street, and we are truly pleased with the variety of writers that we publish. It's a true editor/author relationship.
Your work as an artist and community builder seems rooted in the first person plural.  Can you tell us where you feel the most comfortable sense of "we"?  The least comfortable?
When I think of (we) I think of (us), and how (us) have been constructed. However, I believe the differences we are create the universality we crave, and so while I come from (us), and love (us), in order to evolve into a society without brackets/borders, there has to be a (we).  But I love me some (us), because (us) really is the (we). I am uncomfortable when (we) is not (us).