Monica Ong was trained as a visual artist but poetry has long been a part of her creative process.  She joins FPP on January 28 to share her work, and we asked her a few questions about her influences, the act of translation, and cultural silence.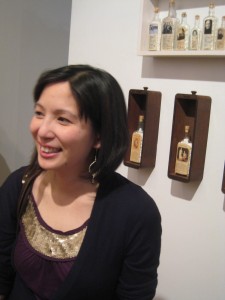 What kind of connection exists between your poetry and visual art? I love writing within a visual context. The visual space and prompts I create give me something to write "against", just like a designer receives a set variables in a design brief to create a campaign from. I have never really considered them separate as we often experience them together anyhow – even language by itself is still represented with typography, which carries aesthetic meaning. The context where we might encounter a text is also inherently significant, whether you're reading a cereal box, a novel, or a prescription. Thus, I also use art to simulate contexts so that we can examine the roles that we as readers might assume, "patient", "consumer", "woman."
Some of your recent work has focused on images and interpretations of medicine.  How do you interpret health and/or well-being?  I think of health as both personal and collective. There is a personal level that entails taking care of our bodies, centering ourselves and using health challenges as an opportunity to pay more attention or to reflect on our priorities. But it also means our participation in society – the cultural effects of our actions. It's in the form of my choices as a consumer, whether it's the food I eat or the products I buy. I'd like to think that individual example can also play a role in removing stigma surrounding certain kinds of illness, simply by my behaving more compassionately and inclusively towards others. Actions shape the cultural landscape that can either support or deter others from seeking the help they need.
Have you always been into art and knew that is what you wanted to do for a living when you grew up?  Yes, definitely. I have always had a love for art, literature, and technology and am pleased to be able to integrate these interests into what I do.
You have mentioned your early efforts in a project often involve translation.  Could you tell us a little bit about that?  My experimental image-texts usually emerge from a state of translation. I often begin with family archives and images, trying to piece together the facts, which often are layered with folklore, superstition, and cultural spin. When interviewing my immigrant family, whose roots span China, the Philippines, and the United States, I engage in the literal translation of language (some of which are disappearing), as well as deciphering what a story reveals, and more often what a story hides.
This process parallels the medical explorations, which offer another kind of translation. I like starting w/ unfamiliar scientific words, as they present another kind of translation, but also because it carries a similar feeling of displacement and bewilderment for me as a reader. For example, when studying a diagram of an intercostal nerve, I wanted to do wordplay with its various parts like the "ramus communicans", "sympathetic ganglion", and "anterior division." I allow the words and shapes to act as triggers in order to push me somewhere new.
How do you define "cultural silences"?  What significance do they have in your work?  I witnessed one of my aunts live through a life of mental illness that was minimally addressed due to the fear of losing face in her community. There was so much shame. While so many aspects of her condition could have been improved or treated, she is sadly a ghost of herself now. Despite my father's efforts to help, an experienced physician in the family – even he was no match for the cultural hierarchies that surrounded her. Knowing this makes me feel for those who are not able to get treatment for all kinds of trauma, such as domestic or sexual violence, or AIDS,  simply because of the fear of being ostracized by their communities. And when things go untranslated or under reported, that means less funding, less research, less resources. This is cultural silence.
What fantasy piece of technology would you like to see invented?  Something similar to a polygraph, only it is able to translate silences into clearly articulated desires. Oh an maybe a feature that works on crying babies too.
What's something that continues to interest you about your work?  The alchemy of image-text experiments. Maybe it's because of my work as a designer, but I just think that there is always room for discovery and play. In fact, now that we are entering the era of e-books, I find that there will be even more to explore as far as interaction design in literature.
What does "we" mean to you in its most ideal form?  "We" in the most ideal form is realizing that we are extensions of each other, that the people in our environment are here to mirror the things we can improve and also show the greatness that we can cultivate – however, being able to remove the tendency to separate our sense of self from others (which also cuts off our personal responsibility to care for others) depends on our personal vigilance to keep that compassion flowing.
Was there any other field or occupation you considered going into?  I think journalism is the closest to the heart of what interests me as an artist – collecting stories and using media to tell it in new ways. If I weren't as camera shy, I'm sure I'd enjoy it.
Which artists do you feel closest to and which have had the greatest impact on your work?  I am deeply affected by many artists and writers. Shirin Neshat – the intersection of text, image, feminism, and cultural revolution in her work is so courageous. I love the audio walks by Janet Cardiff. Favorite artist-poets include Anne Carson and Susan Howe. As far as growing in my work, I owe a huge debt of gratitude to the poets of Kundiman and Cave Canem, organizations that foster Asian-American and African-American Poetry respectively – the poets I've met are not only examples of great writers, but generous spirits who don't hesitate to nourish and mentor others. It continues to astound and inspire me to this day. That's my shout out to Sarah Gambito and Randall Horton, as well as many others who know who they are.
What do you do for fun?  I'm a home design junkie and also love cooking with my family.