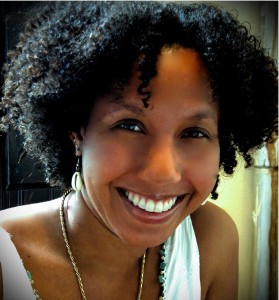 FPP Harlem spoke with the spellbinding fiction writer Tiphanie Yanique (How to Escape from a Leper Colony) about "juicy, fatty" novels, when the POV has to be "we," and enchantment as a family tradition.
What's the best thing about reading to a live audience?
I love the immediate reaction you can get.  As a writer, most of my audience is people who I will never see.  It's nice to see them.  I also love giving readings because I dig community. Reading to an audience feels like a community endeavor.
What has changed personally for you since How to Escape from a Leper Colony was first released?  Has there been any change in the way that you work?
My process as a writer has changed more because I have a baby than because I have a book.  I think I'm the kind of writer who is curious about people and about how people react in the world.  Turns out I find that kind of excitement just watching my kid grow.
You are known for writing characters with distinctive voices.  Does the new work also envision character in that way?
How nice to be known for stuff other than the nonsense you did in high school.  Right now, allowing each character a distinctive voice is how I envision character.  Period.
What is the title of your new book and when is coming out?
Land of Love and Drowning.  But I am always changing my mind about of the title. That's been the title for years, but I've been trying to convince myself and my publisher that it should be a different one.  It's a juicy, fatty novel and I often wonder if the title makes that fat too obvious.  I want readers who go for lean writing to still give my novel a try.
Tell us a little bit about what it is about.
Set in the Virgin Islands and various parts of the Caribbean and it goes from the 19-teens to the 1960s when we in the now US Virgin Islands became Americans.  That's the back drop.  It's about a family of two sisters who are orphaned as children and go from riches to rags.  The two sisters are incredibly dynamic and have the power to make men fall in love with them.  Many women in my family have this power.
Some/most of the book is written in the first person plural, can you tell us a little bit about how you decided on writing in that point of view?
Most of the book is written in first person plural with characters coming in and telling their story in first person singular here and there.  It's a book about community. I quickly realized, as I was writing, that my third person narrator has opinions, has bias.  It was not a strictly omniscient point of view.  I realized the narrator had a personal investment.  So it was "we", and it had to be a we.
Who/what have you been reading lately?
My students' exciting and earnest and lovely new fiction.  Edith Pearlman's Binoclar Vision.   Adrienne's Rich's Tonight, No Poetry will Serve.  And Garcia Marquez's Love in the Time of Cholera…a  juicy, fatty novel!
Who/what have you been listening to lately?
Anything that has the word Sunshine in the title.