FPP spoke with photographer, poet and painter Rachel Eliza Griffiths about the "'We' as a great village of living and dead family", how Harlem is a "powerful orchestra" and how she took Toni Morrison's advice to heart in her own art practice.  See Griffiths read from her new book of poems Lighting the Shadow at Shrine on Tuesday, Nov. 10th at 7pm!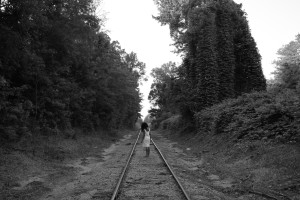 We see many women of color in your photographs—including many beautiful portraits of you, Rachel Eliza. Would you tell us about what drives you to engage your chosen imagery?
Frida Kahlo once said, "I paint myself because I am so often alone and because I am the subject I know best." When I burrow inside of Kahlo's words and think of my own work, I both agree and differ. I feel alone and yet I do not feel alone when I photograph myself and other women of color. It feels political and powerful to me to challenge my own agency in my images, most especially when I'm photographing myself. I'm compelled to photograph women of color. I'm constantly pushing both known and unknown languages and imagery.
There's a tension, defiant and complicated, in my own personal perception of beauty. It's an uneasy one, especially when it comes to bodies of color. I don't really know why I've chosen certain types of imagery – except that it's instinct and something much older than me – that drives me to photograph black women and myself always in white clothing or why I photographed black and brown women in trees.  Years ago I saw it and kept seeing it, had always seen it psychically, and so then I set out to make it 'real'. But it must have been real somewhere in a place or dimension that is often overlooked when it comes to black bodies. You know Toni Morrison speaks about writing the books she wanted to read and I often feel I apply a similar notion to my imagery.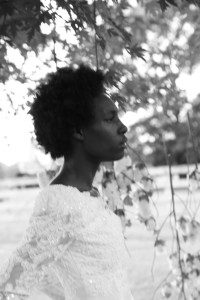 When did you first pick up a camera?  What did you want to shoot?  How has this changed?
I first picked up a camera when I moved to New York although I recently found a photograph of myself as a very young child holding a camera quite intensely. So maybe it was already deeply happening back then and only now am I finding the evidence.
I'm also a painter but when I arrived in New York I lived in a woman's residence on the Upper West Side. My room had a single window that was thin as the width of a matchbox. It faced an elevator shaft. No natural light & certainly no room for easels or even a desk. So I began to walk around the city, endlessly and blissfully walking, and I started to take a camera with me. It helped me train my eye and my art, how to see and to remember textures, people, rhythms, dreams. The anonymity was a refuge. The camera became a witness and a mirror. I photographed anything I found evocative, anything that drew me both out of myself and simultaneously, drew me more deeply into the fluid private space of who I was becoming.
As far as change goes, these days I'm more likely to work inwardly or more conceptually. I'm more likely to spend hours in my studio alone or with models I work with. I work frequently out in natural landscapes. I don't do as much street photography unless I'm traveling. I still make portraits of writers but less frequently because this current body of work requires so much energy. I've also been exploring video as a medium so I'll set up shoots or record footage as needed. Then I head back to my studio where I edit for hours, cursing at Final Cut Pro.
Truly, I'm excited about some forthcoming collaborative projects with several writers and musicians. These days I experiment in ways I wouldn't have imagined when I first started shooting. I've got some solo stuff that I'm putting together. And actually I'm painting a lot now and beginning to organize my photography archive, which contains thousands of images.
When do you feel most "we"?  When do you feel most "I"?
Since my mother's death last year I use "we" frequently in my thoughts. From time to time, I'll even say it aloud. I'll say 'we' and get funny looks. I don't care. I know it seems crazy to other people but not to me. When I speak and act from 'we' there's a heightened sense of strength and accountability though, in truth, physically there's just me. The 'We' helps me resist giving up when the "I" is too fearful, overwhelmed, weighted, or narrow. For me, I like how 'We' acknowledges a great village of living and dead family. When I use 'We' I am peopled. The 'we' absorbs my 'I' and that feels organic to me right now. It could change.
'We' also helps me acknowledge the different spaces in which I create. I love how LaToya Ruby Frazier speaks about this and I think, looking back now, there's a similar notion of my own relationship with my mother and many women of color where I feel there is one, non-monolithic entity and within that single 'body' there is boundless nuance, imagination, and action for my collaborative process.
Do you feel called to use the first person plural voice?  Does it trouble you?
Like anything interesting or worthwhile, the use of the 'We' and 'Us' has some tension in it. The plural voice can be troubling in certain contexts. For me, it's about intention. You know, when I hear 'We' used in this country by some people I am deeply troubled because usually 'We' is employed as a tool of oppression, division, or power.  Some people will say 'We' and 'We' and 'We' and you know (and they let you know by what they aren't saying) that they certainly do not include and have never included 'You'. The first person plural voice is a fundamental and complicated device in American rhetoric.
Would you share a cherished memory of light? 
The last time my mother called me by my nickname.
What is the first darkness you remember?
It isn't linear for me.
Where do you feel your feet sink most sweetly into the earth? 
Any body of water. Being near or submerged in water is important for my creative process. Some specific spiritual places on this earth: Mexico, Brooklyn, Paris, Provincetown, Northern California, Santa Fe, and the Mississippi Delta.
Do you feel there are places, landscapes that hold you, while others repel?
Certainly, there are landscapes that seem better suited to my moods and imagination than others. There are landscapes that have become, over years, spiritual foundations for me. Travel is critical to my identity and imagination. There are many places I'd like to visit and to explore.
I feel repelled by overly commercialized places when you can feel that a place has been hyper-harvested. I feel overwhelmed in those places. Parts of Brooklyn, where I live, are going through this too. Thankfully, there are sub-radar kingdoms of New York where remarkable streets and half-hidden blocks remain untouched or continue to be perceived, thankfully, by developers, as to be of no value.
What is Harlem to you?
Harlem is chosen family, chosen music, chosen freedom.
What was your first knowledge of Harlem?
I used to take the metro north train at 125th up to Sarah Lawrence College when I was in graduate school. I'd walk around trying not to miss anything. It was impossible. Harlem is a profound orchestra. I'd have a notebook and would try to scribble the rhythm down but it's beyond paper. The narrative gets made and unmade in every moment. Improvisations, collages, and so much style you can't even take it except you do because it's abundant and it leaves you smiling and full, like a meal. I used to go to Harlem often to get my hair braided. And I'd go to the Schomburg or Hue-man Bookstore to take myself out on creative 'dates'. I'd walk around, buzzing, with all my channels open. I'd think about all of the lineage and pride. What's so incredible is that you hear the now, the past, & the future all at once. Harlem is sublime.  Citizenship in Harlem means imagination, justice, & community, indivisibly. It's ever a full-bodied song in Harlem. And it's always so effortlessly cool.
One of my most memorable afternoons, as a young photographer, was working with the late, luminous Walter Dean Myers at Morningside Park. It was one of my very first magazine covers, I think, for Mosaic Magazine. I remember leaving the park, holding my camera and feeling so grateful and so alive. Having been in his presence, even briefly, continues to resonate in me. For several years I used go up to the Harlem Arts Book Fair with my camera and spend the entire day walking around, celebrating the community, the creativity, and all of the wonderful books, art, and food. It would be so hot! But the streets would just be like a village. It was incredible. Another bright moment for me was the very first time I went to the Harlem Arts Salon at Quincy and Margaret Troupe's home.
Last spring, Laura Pegram, founder of Kweli Journal, sponsored a Kweli event at the Schomburg that featured my photography and also gathered a number of women in conversation about imagery and language in terms of identity and black womanhood. Nikky Finney, Parneshia Jones, and myself, moderated by Saretta Morgan, waded into one of the most provocative and dynamic discussions I've ever experienced. But I knew that we went into ourselves so deeply because we were in Harlem.  Our audience asked such necessary and powerful questions. There was a sense of grace, of safety, and trust that we could all share our thoughts, hopes, and truths about our shared experiences in the space of community. We could have been there all night!